Human Machine Interfaces and embedded GUIs have gone thru a transformation driven by the popularity of smartphone devices and their look & feel. Consumers are expecting to see products with larger screen, touch GUIs, and easy user interface experience. Emprog in partnering with TouchGFX embedded GUI is now providing a high end GUI for embedded MCUs, a GUI framework designed from the ground up for limited resource microcontrollers.
"Having Emprog as our TouchGFX representative will ensure the right way to expand our software framework in the Americas." -Jorgen Mygind, Business Development Manager of TouchGFX Framework.
TouchGFX Technology:
TouchGFX is a software framework written in C++ that enables high-end GUIs on embedded systems with very limited hardware resources. The TouchGFX technology optimizes the utilization of smallhardware platforms, such as the ARM Cortex M-range microcontrollers (MCUs), resulting in faster image updates with less MCU load, outperforming competing frameworks.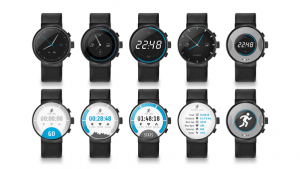 TouchGFX Embedded Wearable GUI Framework
Optimal Resource Utilization:
The core of TouchGFX technology is an advanced algorithm that decodes what is showing on-screen and enables the GUI to only use resources to draw the graphics visible at any given time. In addition, TouchGFX includes rendering algorithms and new advanced drawing mechanisms, giving you:
Higher GUI performance and smooth animations at a frame rate of 25 or more. Display-resolutions up to WSVGA: 1024×600. Low MCU load, typically ≤15%. Ultra-low power consumption.
Developer-Friendly Framework:
TouchGFX is structured to make the development simple and easily manageable. With automated developer-tools we have created an efficient framework that gives you the perfect platform for developing GUI applications in TouchGFX. The developer-friendly framework includes:
Object-oriented extendable API.
– Automated build chains for generating elements, such as bitmaps and fonts.
– PC simulator for prototyping and easy debugging.
– Optional built-in scheme for efficient memory allocation.
– A standardized structure for integrating the GUI with the rest of the system.